... in vino veritas!
Join us for a wine tasting in our vinotheque and enjoy selected wines from our wine cellar. You can either enjoy a set wine tasting (see the list below), with or without a food pairing, or order whatever you like with an olive, cheese or cured meat board.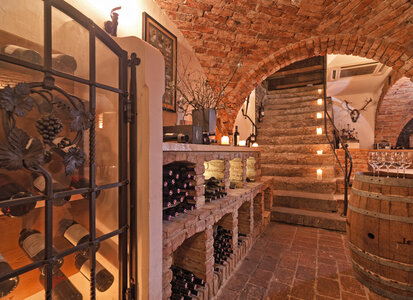 Vinotheque
Our vinotheque is located in the old vault cellar. More than 3,000 bottles of wine from all over the world are stored there. The location is ideal for wine tastings and small celebrations and parties. Extraordinary atmosphere makes every event to a memorable experience.
RENT our vinotheque
Rent our vinotheuqe for your private party or business event.
Suitable for 6 to 25 persons for an extraordinary atmosphere. Choose from a range of 150 different wines.
Classic wine tasting
Taste 3 white and 3 red wines. Served with bread, water, olives, cheese and spreads.
€ 22,- per person, from 6 persons
Spontaneous wine tasting
We offer wines from our wine list for tasting at any time.
You pay what you drink.
Bread, cheese and olives € 10,- per person
International wine tasting
Taste 4 white and 3 red wines. White wines from top wine makers from Wachau, Kamptal and Styria.
Red wines from Burgenland, Italy, France or Spain.

Served with bread, water, olives, cheese, prosciutto and salami.
€ 35,00 per person